Soundcard Select
MMSSTV MMVARI add on by HB9TLK
Soundcard Selection Simplified

SC_Select has been tested on WinXP and Vista.
(Should work with windows 7)
What does it do?
SC_Select is an add on for MMSSTV and MMVARI that makes selecting sound card devices (different id's) for in+output possible. This can occur where the in and out channels on one soundcard have different id's. Some 5.1 or 7.1 soundcards have 1 input but 2 outputs.

Using sc_select you no longer have to work with device numbers. This can help users with a soundcard device that is not easily selected with the current device number setup or use more than one soundcard in a custom setup.
* If your MMSSTV or MMVARI is working fine, you do not need this add on. *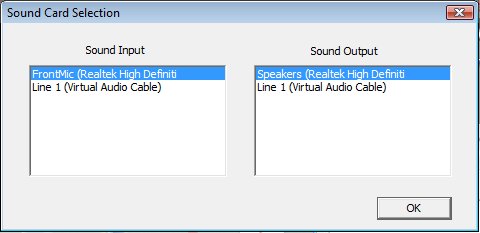 SC_Select does not change the actual MMSSTV or MMVARI program functions. Vista compatibility is not improved, so the soundcard Input & Output Level items on the "Options" Menu do not work. This will require updating MMSSTV and MMVARI program code. A project to do this upgrade is currentlu under way.
Known problems or inconveniences
- the soundcard settings are not remembered.
- you can't select left or right sound channels.

You must have the file msvcr70.dll on your computer.
Msvcr70.dll is often installed by other programs.
(download below if needed)
Downloads

WEBMASTERS: PLEASE LINK TO THIS SITE AND NOT DIRECTLY TO FILES

sc_select.mmw
Updated Nov. 11, 2009
See Using sc_select below for instructions on how to set up.
-----------------------

You may get an error saying that MSVCR70.dll is missing.
( This only happens if you have not installed a program that included this file.)
MSVCR70.dll

Unzip the file and follow instructions in the readme file.
---
Place sc_select.mmw in your mmsstv and/or mmvari folder (directory)

Start MMSSTV or MMVARI

From the MMSSTV or MMVARI menu>>
Select [Options]
Then [Setup MMSSTV (MMVARI)]
Select the [Misc] tab
Next look at [Device ID] click the arrow next to the ID box
(make note of current device # in case you need to change it back)
In the drop-down list, choose sc_select as the soundcard to use.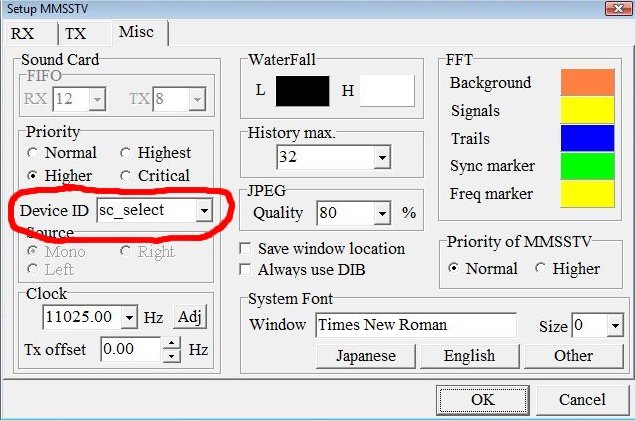 Next close MMSSTV or MMVARI and restart the program.

When you start MMSSTV or MMVARI this box will pop up allowing the your audio input and output device to be selected.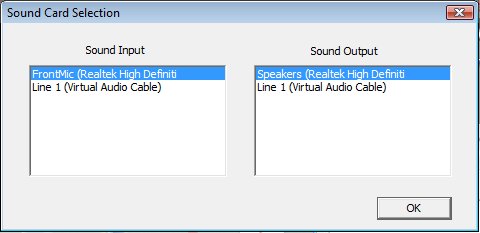 When you click [OK] another box may open is your sample rate is not set to 12000.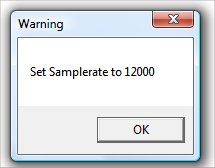 This means you need to go back into SETUP, go to the MISC tab and make the clock settiong 12000 Hz.

After you do this, the 12000 rate should stick and the warning should not apear again.


Please report your results and comments to the MM g roups.io .